Emergency Locksmiths
24 hours – 7 days a week emergency locksmiths service
Locked out? Don't panic!
If you have locked yourself out of your home, don't panic. We deal with these situations all the time and your problem is easily resolved. Whether you have a wooden door or a UPVC door, we can solve your problem and open the door.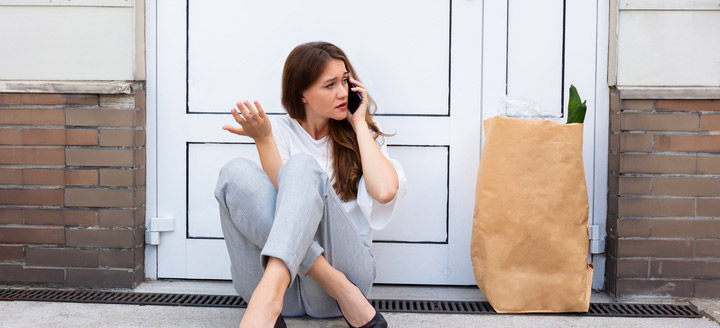 Family locksmith
We are a family business and professional locksmiths. When you phone us, it will be me that picks up the phone and answers your call. I can give you an idea of both the solution and the likely cost. You don't have to worry.
In the unlikely event that I cannot get to you immediately, I will either try and give you the number of an alternative, or offer some advice, which often solves the issue or takes the emergency nature out of the situation.
Emergency Locksmiths
Calling an emergency locksmith to fix the problem is always a cheaper option than breaking a window or kicking the door in, which creates a lot of damage and mess and additional expense.
Therefore, our advice is to call us first on 07973 129550 or 01323 899999 and we will talk and get to you as soon as we can. This is often very quickly as we live in Seaford and the area we cover is generally less than 20 minutes drive if the roads are clear.
Jane Stokes
April 28, 2022.
Greg solved an initial issue with our Yale lock and then went on to replace two more locks which are fantastic and no longer will we potentially be locked out because a key existed in the lock. Fabulous solution. Highly recommend Anderson & Son Locksmiths and will use every time!
Charlene Hobbs
March 31, 2022.
Fantastic service..manage to lock myself out of the house on the school run. Gave them a call after googling a local locksmith.Arrived 15 mins later and I was back in! Highly recommended.
Ash Godfrey
February 24, 2022.
Life saver! Fantastic service from Andy Anderson & Sons. We were locked out of our home at 1am and found Andy via Google who was with us within 20 minutes of calling. A friendly and caring guy who got us back in our home and went the extra mile by also fitting a replacement lock. Reasonable late night rates too! Highly recommend!
Katherine Wardleworth
February 3, 2022.
Replaced a faulty lock with a far safer, easier one. Also cleaned up all the inevitable mess! Fantastic service!
Wendy Howell
July 26, 2021.
Absolutely brilliant job! Greg managed to open double glazed french doors with a broken lock using specialist equipment. He replaced the main lock and then found the lower lock was bent and even though hard to find managed to source a new one online. Fitted both locks and adjusted the door to shut properly. Very professional. Would happily recommend to family and friends.
Jain Morrissey
April 1, 2021.
The door was no longer deadlockable as it had dropped over 18 months since installation. Called Greg as I've used him before when I locked myself out. Phoned him just before midday and although it wasn't urgent he arrived 4.30ish and sorted the door within 15 mins. Very knowledgeable and gave me good advice on maintaining the door and lock. Highly recommended. Seaford local.
oscar computers
August 14, 2019.
locked out of my shop, turned up in 20 mins fitted a new lock and adjusted the door. very good service and price, cant recommend highly enough
Matt Chambers
February 14, 2018.
Greg replaced our office door and did an excellent job; it's now upgraded and more secure. Greg has an unparalleled knowledge and passion for his craft and I would recommend him to anyone.